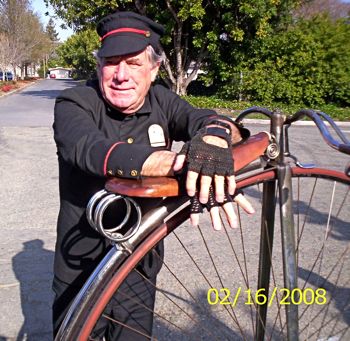 Mayors' Ride Bios - Jack Castor

Which relay link(s) are you interested in?

Where the body and schedule are able, I ride when I can

How did you find out about NBG/Mayors' Ride?

Fellow Wheelman. Martin Krieg

Why do you want to do this ride?

I enjoy bikes and being around bike people

Tell us about your touring experience- if little or none, indicate how many miles have you ridden over the last year:

HiWheel Rides
- Since 1978, 44 centuries on a HiWheel bike.
- 1978 England Cotterell Ride with the Southern Veteran-Cycle Club, 150 miles, 3 days, a hundred year commemoration of the first Bicycle Touring Club ride
- Oct 22, 1978 My first century ride: Brannan Island to Old Town Sacramento, CA and back
- 1983 Wales to the English Channel in a week
- 1984 Australia Great Ocean Road Ride (one week)
- 1984 San Francisco to Boston, 44 days, 2 hours, 3347 miles, 12 centuries
- 1985 4th place Mt Gambier races
- 1986 1st place Australian Trick Riding Championship
- 1991 2nd place Findlay, OH one-mile race
- 1990, 1992, 1994 & 1998 1st place Australian National Veterans Championship
- 1999 1st place Australian National Superveterans' Championship
- 1999 & 2001 New Zealand Super Vet Racing Champ
- 1999 1st place America's Cup Challenge Race, Team Relay, Springfield, Missouri
- 2000 2nd place Superveterans' World Championship, Evandale, Tasmania

Other Bikes
- 2001 First place Ingo Bike World Championships, Buffalo, NY
- 2002 First place Velocipde World Championships, Belgium

Tell us about your bike:

I have lots of bikes. HERE is a recent visit that I hosted at my home/museum in Half Moon Bay, CA

Please describe your training regimen:

I don't really have a training regimen. I just get out and ride whenever I can.


Coasting the hills with the legs over the bars serves a couple of purposes. It takes energy to pedal down the hill, even when not resisting the pedals. Trying to retard the bike with the pedals can really put the legs to work. On the other hand, hanging the legs over the bars allows the rider to completely relax the legs. They get a nice rest, and are ready to go vigorously again. I have twice coasted nine miles, and once six miles, on an ordinary. I find that coasting legs over is the most pleasurable thing I do on the ordinary.

On my ride across America in 1984 I did not walk down any hill. I did walk down the steepest couple of hundred feet of a steep hill in New York, until I could see that it was safe to descend on the bike. Then I weaved back and forth across the road, on the pedals, until I could control the bike with the brake, and eventually I coasted the rest of the hill, legs over. I did get a surprise at the bottom, because I came to a four-way stop when the road levelled out. You can brake very heavily, legs over, if you lean back. A true wheel with no " bounce" (being vertically out of round) is a necessity for heavy braking. The dangerous moment occurs when the wheel is nearly stopped. I have twice seen the brake lock a wheel, causing a header, when the bike was nearly stopped and the rider was in the act of dismounting. The road had recently had a chip seal resurfacing, and the tire brought a chip up to lodge under the brake spoon.
On his ride across America in 1984 the legendary Jack Castor rode the 3,347 miles from SF to Boston in 44 days and 2 hours! Of which 12 of those days were centuries. He did not walk down any hills. Instead he threw his legs over the bars. It was until well over a decade later, in the late '90's in New Zealand, that he crashed while doing so as he was being filmed by a TV crew...

How are you making time for this ride?

I am a retired engineer.

Other


HERE is a fun ride I did with Busycle in Palo Alto, CA

HERE is a ride that toured my collection, Half Moon Bay, near the ocean where I live, and saw Eddie Andreini in fighter plane action.
Email: jackcastor@hotmail.com