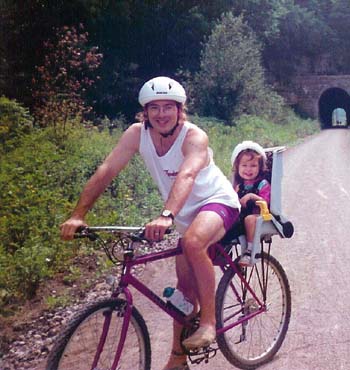 Mayors' Ride Bios - Troy Bogdan

Which relay link(s) are you interested in?

Washington D.C. to Pittsburgh
See the 2004 slide show I created for this connection!

How did you find out about NBG/Mayors' Ride?

I saw an article in the "Venture Outdoors" newspaper entitled, "Bikers Wanted." Furthermore, I went to www.bikeroute.com. I had so much fun last year, I am doing it again!

Why do you want to do this ride?

I have been enjoying riding on Rails to Trails for over 10 years, and have always wanted to ride from D.C. to Pittsburgh. Since I did my first trip last year, I can't wait to do it again.

Tell us about your touring experience- if little or none, indicate how many miles have you ridden over the last year:

Although I have little experience in "touring," I have been riding my mountain bike on various sections of the Rails to Trails system over the years. Last year I put over 400 miles on my odometer during the Mayor's Ride (Including side trips) and did numerous miles in training, and other trips. .

Tell us about your bike:

My bike is an off-the-shelf, purple, Trek 930, which was purchased about 12 years ago. This bike has held up so well over the years, I am extremely happy with it. In 12 years of riding, the only repair has been one rear tire, and a set of rear brake pads. The only non-original part is the seat, and the rear rack. I also tow a Yakima trailer on extended rides..

Please describe your training regimen:

I don't really have a training regimen. I just get out and ride whenever I can.

How are you making time for this ride?

I am an organic farmer, so I have some control over my work schedule. I am just going to make time for this trip.

What are your fears about doing this ride?

I fear nasty weather along the way . . . and also leaving the bike trails and riding on the roads especially between Cumberland and Meyersdale, and McKeesport and Pittsburgh.

If you are involved with other non-profit organizations, please tell us about them:

I am a member of Rails-To-Trails, The Allegheny Trail Alliace, and the Montour Trail.

Anything else you'd like to share with us?

I am really looking forward to doing this trip again, and plan on camping the majority of the way. I love the history that goes with the C&O Canal, and the Rails-To-Trails along the route.


Email: tbogdan1@earthlink.net