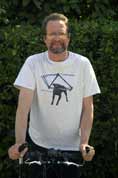 Mayors' Ride Bios -Don Loomis

1. Which Relay link do you want to ride?

San Jose to Chicago (then to Washington DC on my own)

2. How you found us

I first heard Martin speak at Almaden Cycle Touring Club in 1998. Went on the first part of the ride in 2000, crossing most of Califonia. Attended the Santa Cruz Bikefests.

3. Why you want to do this ride

I enjoy cycle touring and will enjoy experiencing and promoting it with others.

4. Tell us about your touring experience- if little or none, indicate many miles have you ridden over the last year:

Bought a 10 speed in 1974 with the goal of someday going across the country. Have been on many weekend and longer trips. Took a trip with the family 9 years ago down the west coast, biking with them until Oregon and the rest of the way by myself.

5. Tell us about your bike

I plan to get a recumbent bike before this trip. Currently I have a 21 speed touring bike and two Bike Fridays. I have a B.O.B. trailer which I plan to take.

6. Describe your training regimen

I usually commute and take a bus to work, biking 8 miles per day. Haven't done that for a while but will get back into it. As it gets closer to the trip I plan to bike the entire way to work (about 20 miles each way), and take weekend trips. After I purchase a new bike I want to take it on overnight trips with the camping gear.
7. How are you making time for this

Using vacation time from work and taking a couple weeks extra off.

8. What are your fears about doing this ride

I have no doubts that I can do the ride and know that I will enjoy it. I have learned through experience the importance of drinking plenty of water and eating well.

9. Do you have any special skills that you feel would benefit the Mayors' Ride?

I will be bringing my camcorder to take pictures of the ride. I've had experience planning routes and logistics for a bike trip. I also use a computer for notes and communicating.

10. Do you have any personal contacts that you feel could help the National Bicycle Greenway or the Mayors' Ride? If so, please list them here.

I am telling friends and relatives about it, and inviting them to join me on parts of it.

11. If you are involved with other non-profit organizations, please tell us about them:

Almaden Cycle Touring Club (ACTC)

11. Anything else you'd like to share with us?

I am really looking forward to the ride and I think this will be a great experience. This will also be a good time to reflect on things.
Name: Don Loomis

E-mail: dloomis@mac.com