Mayors' Ride Bios - Mike Damon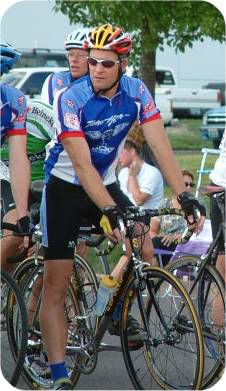 1. Which Relay link do you want to ride?

Reno to Sacramento

2. How you found us

I've done it for a couple of years. Originally I just saw it while browsing for bike parts, or something like that.

3. Why you want to do this ride

I really appreciate the cause, and I love any excuse to ride up and over the Sierras. It's no-mans land out there. Some pretty remote roads with awesome views. Not very many people actually ride on these roads, so I'm hoping to help their popularity a little.
4. Tell us about your touring experience- if little or none, indicate many miles have you ridden over the last year:

Colorado Springs to San Francisco a few years back. (3400 miles....yeah got lost a few times).I usually squeeze in several 100 plus mile rides per year.

5. Tell us about your bike

Either a Serotta Legend Ti or a Trek 5900. All Campy...I'm not a snob, it's just what I'm used to.
6. Describe your training regimen

I teach spin classes 4 days a week. Race on Tuesdays, train on Saturdays and Sundays. Usually about 120 miles /week on the road.

7. How are you making time for this

I'm just playing hookie from work. The family will probably drive along and meet somewhere.

8. What are your fears about doing this ride

Attacked by a bear maybe?

9. Do you have any special skills that you feel would benefit the Mayors' Ride?

I can fix most anything that might go wrong with a bike, I have advanced first aid and CPR, and I can tie a bowline with one hand (not sure if that's any help!).
Do you have any personal contacts that you feel could help the National Bicycle Greenway or the Mayors' Ride? If so, please list them here:

Currently I'm president of the Reno Wheelmen Bicycling club, and I'm pretty involved with local cycling. I've worked with the Mayor and Vice Mayor in previous years.

If you are involved with other non-profit organizations, please tell us about them:
I ride and fundraise for the Lance Armstrong Foundation. The Reno Wheelmen is a non-profit as well.

Anything else you'd like to share with us?
Just a note for anyone contemplating doing the ride. Just do it. You will not regret it. Even if you just do a short leg, it's a real pump to be part of a ride with a cause!

Name: Mike Damon

E-mail: spokebloke@charter.net