Boston City Councillor Felix D. Arroyo 
Contact:
Matuya Brand, Communications Director
(617) 635-3116
Cell: (617) 694-1255  
           
FOR IMMEDIATE RELEASE             4/27/06

Arroyo announces 5th Annual Mayors' Ride Relay

BOSTON-On Friday, April 27, Councillor Felix D. Arroyo will kick-off the 5th Annual Mayors' Ride Relay, a bicycle ride going from Boston to San Francisco and 31 cities in-between. The kick-off will take place at City Hall Plaza at noon.

"Boston has long been a national leader in the efforts to promote alternative transportation," said Arroyo. Arroyo, who almost exclusively uses public transportation and used biodiesel in his last car, is an avid supporter of environmentally friendly means of transportation. "I plan on using my bike more often once it gets warmer, and I am thrilled that this program is raising awareness to the value of the bicycle as part of the local transportation mix."

At tomorrow's event, Councillor Arroyo will present the National Greenway organization and other participants in the relay with resolutions celebrating their ride.

This relay is run by the non-profit National Bicycle Greenway organization, which is dedicated to the promotion of a network of multi-use transportation and recreational bicycle roads and trails from the Bay State to the Bay area. The goal of the self sustained Mayors Ride Relay is to highlight for local decision makers the advantages of using bikes and it also gives bike riders the chance to log safety problems on roads along the way.

"I congratulate [National Bicycle Greenway Founder] Martin Kreig and all the participants in this great event," said Arroyo.  Arroyo is also proud of local bicycle efforts including Mass Bike, Bikes Not Bombs, Livable Streets Alliance, the Buscycle Project, and the Hub on Wheels Bike Festival.

Felix D. Arroyo was sworn in as the first-ever Latino on the Boston City Council on January 6, 2003 and was recently re-elected to his third term. In his 30 years as a resident of Boston, Felix Arroyo has been and continues to be an educator, organizer, activist, father, and grandfather. Arroyo also provides a Weekly Update to his constituents. If you would like to receive this update, please sign up at www.felixarroyo.com.

Posted by mkrieg at
03:07 PM
In Memory of NBG Scout Skot Paschal
This is w/o question the hardest email I have ever written. I have fought doing so all day. In fact, when I first heard the news that requires that I write it, I didn't want to believe it until I knew the details; that it really happened.
Skot Paschal passed away on Sat April 22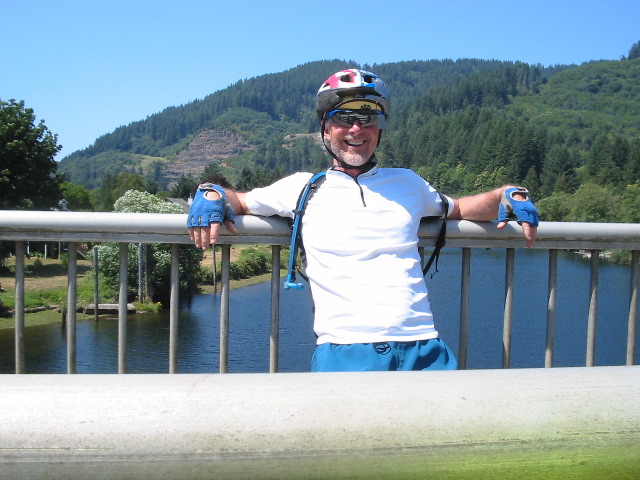 I am so sad. Skot was not only one of our most hilariously funny riders, whose photo slide shows are also among our most watched, but he was also the star of my new book, "How America can Bike and Grow Rich, The National Bicycle Greenway Manifesto". Not only will he not be riding with me next summer but his junior high school students have also lost a teacher who made their learning fun.
He succumbed to his cancer at his home in Santa Cruz among friends. They tell me he died peacefully. This year's Santa Cruz to San Jose ride on July 27th will be dedicated to Skot. A memorial in planned for Skot on May 6. Post for details.........
THX 4 all of U!!
Posted by mkrieg at
10:24 PM